NERS now offers two main types of programs
The webinar series continues, drawing speakers and attendees from all over the world. A typical webinar utilizes Zoom to present a renowned speaker addressing a particular topic, with many stellar weavings as illustrations.
The webinar series has already attracted a group of rug and textile luminaries as speakers, including Jim Burns (Caucasian and Kurdish rug collector and author), rug scholar Walter Denny, and many more.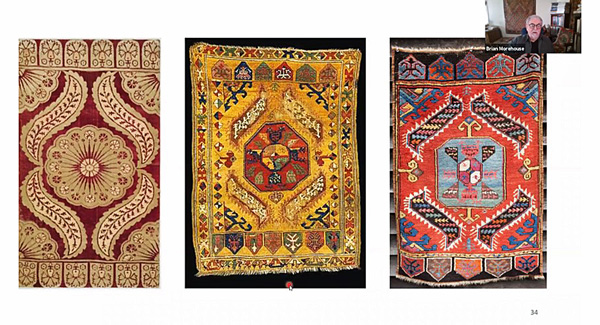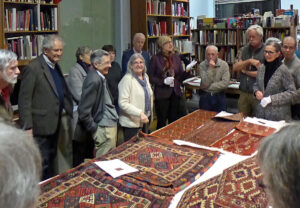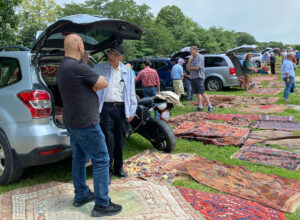 Those within or near the New England area can take advantage of NERS' other main type of program — in-person events. Most are speaker presentations; other in-person events include a traditional annual picnic with show-and-tell, and museum and gallery visits to exhibitions of oriental rugs.
Among the speakers featured at past in-person events have been such internationally respected rug experts as noted author Jon Thompson of Cambridge, England, rug scholar Elena Tsareva, (former curator of the Russian Ethnographic Museum, St. Petersburg), Belkis Balpinar, (founding director of Istanbul's Vakiflar Museum), Parviz Tanavoli, (Iranian tribal rug expert), noted German carpet collector Heinrich Kirchheim, Josephine Powell, (Istanbul-based doyenne of Anatolia's ethnographic researchers), and HALI co-founder Robert Pinner.
Piece by Piece It Disappeared: Reconstructing the Chehel Sotun Carpet with Maggie Squires of The Courthauld Institute on February 10, 2024 at 1PM Eastern Time


Maggie Squires' webinar will focus on a massive carpet woven in the Deccan for the Chehel Sotun palace in Isfahan in the 17th century. The carpet was cut up and sold piece by piece from the palace in the late 19th century, and the fragments are now distributed across at least 11 collections across the world. Maggie's research traces the history of the carpet and uses digital methods to virtually reconstruct the complete carpet based on archival evidence, historical descriptions, and physical examination of the fragments. The reconstruction has implications for our understanding of Safavid palaces and their furnishings in the 17th century and the artistic exchanges between Iran and the Deccan at that time.
Registration link:
All Tradition is Change: Scandinavian Peasant Textiles 1750-1900
From the middle of the 18th until the middle of the 19th century, a tradition of art weaving flourished among the peasantry of southern Sweden, particularly in the Skåne region. Utilizing an array of weaving and embroidery techniques, women in farming households produced textiles that marked holidays and life transitions, while providing festive decoration and enhancing their family's status.
In addition to highlighting the beauty of these textiles, and some comparative examples from Norway and Finland, the presentation will place this tradition in the context of the economic, social, and sometimes individual, history of the weavers. The rise and fall (and subsequent revival) of this peasant art form illustrates that "all tradition is change".
Presenter: Jim Burns
Topic: "Caucasian Rugs: Six Decades of Perspective on Design and Taste"
Date: Saturday, December 4, 2021 and December 11, 2021, 1 PM EST 
Abstract:
Jim Burns will discuss examples of weavings from the Caucasus from the 16th century to the 19th century.  His talk will cover the major weaving areas, including Armenian work during that time frame.  It will illustrate changes and modifications of rug designs over the centuries with examples from his own collection.
Previous In-person meetings
Show-and-Tell of Turkish Rugs with Gerard Paquin
Introducing the program, NERS member, collector, and recent webinar-presenter Gerard Paquin will discuss various aspects of Turkish rugs, including their different formats, uses, regions of origin, and differing social milieux.
For the show-and-tell, which he intends as "a hands-on, open discussion," Gerard will bring Turkish rugs from his own collection, most of them from the nineteenth century, to supplement those of meeting attendees. 
Presenters: Jim Adelson and Yon Bard
Topic: Turkmen Secondary Guls
Date: Saturday, May 13, 3 p.m. Note that the May 13 date is correct, not May 21 as shown in some places in the March newsletter.
Location: Durant-Kenrick House, 286 Waverley Ave. Newton, MA
Abstract:
Longtime NERS members and veteran presenters Yon Bard and Jim Adelson will again team up, this time to examine  secondary guls in Turkmen pile weavings. Many Turkmen pile-rug formats—including main carpets, storage bags, and trappings—feature both primary and secondary guls. Much of the writing about Turkmen weaving has focused on primary guls, addressing their design history and speculating on their symbolic significance. Secondary guls have received far less attention, but a look at even a few examples suggests that they are more varied than primary guls, and that they allowed their weavers greater freedom of expression. All who attend this meeting—members and their guests—are eagerly encouraged to bring their own examples of Turkmen weavings with secondary guls.
Presenter: Jeff Spurr
Topic: Prayer Rug and Textile Show-and-Tell
Date: Sunday, April 16, 3 p.m.
Location: Durant-Kenrick House, 286 Waverley Ave. Newton, MA
Abstract:
The next in-person meeting of NERS will be a show-and-tell devoted to prayer rugs—those Islamic rugs and textiles that adopt a niche form associated with prayer, the mihrab on a mosque wall, and the idea of the promise of paradise. Member and frequent speaker Jeff Spurr will begin the session with a twenty-minute introduction to the topic, based on his past work. After Jeff's introduction, the rest of the meeting will depend on attendee participation—so bring your prayer rugs and textiles!