NERS now offers two main types of programs
The webinar series continues, drawing speakers and attendees from all over the world. A typical webinar utilizes Zoom to present a renowned speaker addressing a particular topic, with many stellar weavings as illustrations.
The webinar series has already attracted a group of rug and textile luminaries as speakers, including Jim Burns (Caucasian and Kurdish rug collector and author), rug scholar Walter Denny, and many more.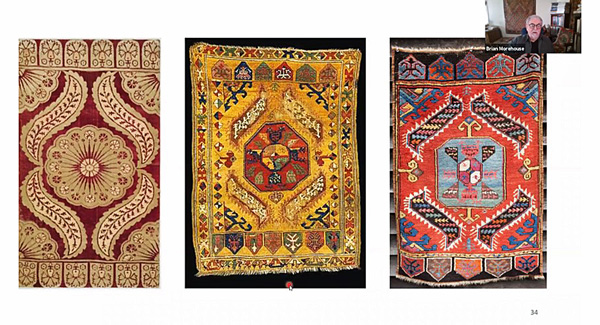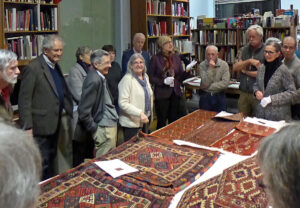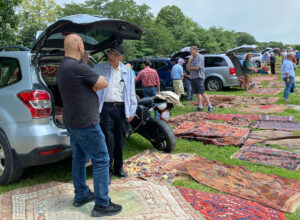 Those within or near the New England area can take advantage of NERS' other main type of program — in-person events. Most are speaker presentations; other in-person events include a traditional annual picnic with show-and-tell, and museum and gallery visits to exhibitions of oriental rugs.
Among the speakers featured at past in-person events have been such internationally respected rug experts as noted author Jon Thompson of Cambridge, England, rug scholar Elena Tsareva, (former curator of the Russian Ethnographic Museum, St. Petersburg), Belkis Balpinar, (founding director of Istanbul's Vakiflar Museum), Parviz Tanavoli, (Iranian tribal rug expert), noted German carpet collector Heinrich Kirchheim, Josephine Powell, (Istanbul-based doyenne of Anatolia's ethnographic researchers), and HALI co-founder Robert Pinner.
Presenter: Raoul "Mike" Tschebull
Topic: "Sources and Evolution of Transcaucasian Village Rug Design and Color"
Date: Saturday, December 3, 3 p.m. [Moved from November 20.]
Location: Durant-Kenrick House, 286 Waverley Ave. Newton, MA
Abstract:
After 1802, when Russians initiated their takeover of the Transcaucasus, village-based commercial rug weaving began to develop. Designs came from everywhere; sophisticated dye use already had a long history in the area. This combination of fresh designs and expert dyeing yielded rugs that rivaled the beauty of those from any other region or culture. By the 1880s, production of these Transcaucasian rugs had boomed; by about 1920, under intense commercial pressure, it had almost completely crashed. Mike's presentation will examine the sources and changes in design and color of Transcaucasian village-based commercial rugs over this short period—how these rugs went from world class to pedestrian.
Meeting attendees are invited to bring Transcaucasian rugs for a show-and-tell following Mike's presentation.
On October 8 at 1pm ET Professor Luca Emilio Brancati will speak to us from Italy, on Afghan War Rugs: 1979–2022. He will focus on the development of Afghan war rugs from the Russian era until the present—a development that the late George O'Bannon called "one of the most interesting phenomena in rugdom." Dr. Brancati organized the first exhibition of Afghan war rugs and has the only known collection consisting exclusively of war rugs dating from the Russian period.
Registration Link:
Season three will open with Professor Walter Denny, who was our first webinar presenter in September 2020. Please join us on September 24, 2022 at 1pm ET for What the Hell is That? Encountering Unknown Carpets in Museum and Private Collections and the Marketplace. Walter will share some surprises and puzzles he has found while surveying carpet collections for over five decades.
Registration Link:
Presenter: Michael Rothberg
Topic: Saddlebags from Persia and the Caucasus: An Examination of Selected Design Motifs.
Date: Saturday, April 9, 2022, 1 PM EDT
Abstract:
Collector and author Michael Rothberg will present "Saddlebags from Persia and the Caucasus: An Examination of Selected Design Motifs." Focusing on aspects of design in nineteenth-century knotted-pile transport bags woven by tribal women, Michael will show examples—Shahsevan, Kurdish, Afshar, Khamseh Confederation, Qashqa'i, Luri, and Baluch—from his recent book, Nomadic Visions: Tribal Weavings from Persia and the Caucasus (published in 2021 by HALI and the Near Eastern Art Research Center), as well as bags from the Transcaucasus, Persian Azerbaijan, and Varamin.
Presenter:  Alan Rothblatt
Topic: Rare Turkmen Asmalyks
Date: Saturday, March 26, 2022, 1 PM EDT
Abstract:
Of all Turkmen weavings, asmalyks—trappings that adorn the flanks of the camel carrying the bride on her wedding day— have been the most captivating to collectors. This webinar, "Rare Turkmen Asmalyks," will present a selection of the best asmalyks from the various Turkmen tribes and will provide insights into some of these highly desired items.
Presenter: Tom Hannaher
Topic: "Painting with Scissors: Mola Art of the Guna (Kuna) Indians of Panama and Colombia"
Date: Saturday, February 12, 2022, 1 PM EST 
Abstract:
In our first webinar of 2022, co-sponsored by the Textile Museum Associates of Southern California, Tom Hannaher will present "Painting With Scissors: Mola Art of the Kuna Indians." Molas are panels used in blouses worn by women of the Kuna (Guna) culture of Panama and Colombia. Employing a combination of appliqué, reverse appliqué, and embroidery, Kuna women create dazzling imagery based on Kuna mythology, customs, and daily life. They also seek graphic inspiration from non-Kuna sources, ranging from political posters to cartoons to advertising campaigns. Tom's presentation will focus on pre-1970 examples and will include a number of unpublished masterpieces, some from the early part of the twentieth century.
Presenter: Jim Burns
Topic: "Caucasian Rugs: Six Decades of Perspective on Design and Taste"
Date: Saturday, December 4, 2021 and December 11, 2021, 1 PM EST 
Abstract:
Jim Burns will discuss examples of weavings from the Caucasus from the 16th century to the 19th century.  His talk will cover the major weaving areas, including Armenian work during that time frame.  It will illustrate changes and modifications of rug designs over the centuries with examples from his own collection.
Presenter: Brian Morehouse
Topic: "Yastiks: A Comparative Study of the Designs of Published and Unpublished Examples"
Date: Sunday, November 7, 2021, 1 PM EST 
Abstract:
This presentation will cover a range of topics that were not in Brian Morehouse's 1996 book, Yastiks: Cushion Covers and Storage Bags of Anatolia (Philadelphia 8th ICOC, Inc.) as well as presenting new examples that have appeared since the book's publication 25 years ago. Brian will also bring into focus images with their early history that suggest that some yastik motifs and stylistic content may go back many centuries. Weavers of yastiks were great borrowers of designs from both rugs and velvets, and we shall follow the transfer of certain motifs and design constructs to features found on yastiks. Most importantly, this talk will explore the changing visual language over time within certain yastik groups.
Presenter: Michael Franses
Topic: "The Orient Stars Collection"
Date: Saturday, September 4, 2021, 11 AM EDT 
Abstract:
Join carpet scholar Michael Franses for a webinar focusing on ten carpets featured in his forthcoming book, Anatolian Tribal Rugs 1050–1750: The Orient Stars Collection. Produced by HALI, this lavish volume will include previously unpublished Turkish and Central Asian carpets acquired by Heinrich and Waltraut Kirchheim after 1993, and will reexamine many rugs initially published in the 1993 exhibition catalogue, Orient Stars: A Carpet Collection.
In collaboration with NERS, the Hajji Baba Club, and HALI, GW Museum and The Textile Museum are hosting this webinar as part of their Rug and Textile Appreciation Morning (RTAM) series. NERS member Julia Bailey will moderate questions following Michael's talk.